December 6-8, 2023 | Lower Rio Grande Region
Registration Closed
The intent of these workshops is to provide opportunities and materials to help decision-makers and other state water leaders grow their understanding of water issues in New Mexico, as well as build awareness and connections.
This workshop will include indoor and outdoor panels and presentations brought to you by subject matter experts in a very concise format. A diverse range of presentations will include science, water management, water policy, agriculture and infrastructure topics, along with time for discussion.
Plan to dress comfortably and bring layers. We will do our best to make this event accessible and comfortable for participants, and we'll provide meals, snacks and drinks along the trip.
Hotel accommodations are provided for decision makers and presenters. Legislators can receive per diem and mileage.
For those attending who are not decision makers or presenters, you can book a hotel room at the Courtyard Marriott at a discounted rate if you call and inquire about the Water Leaders Workshop room block. Rooms are limited so book early!
Confirmed presenters at this event include: Mike Hamman (New Mexico State Engineer), Nelia Dunbar (State Geologist and Director at NMBGMR), Hannah Riseley-White (Interstate Stream Commission Director), John Rhoderick (Water Protection Division Director, NMED), Adrian Oglesby (Utton Center Director, UNM), and many others.
Agenda
Day 1 – Wednesday, December 6, 2023
When: 11:30 AM to 8 PM (including driving from Truth or Consequences to Las Cruces independently)
Where: Start in Truth or Consequences, NM at 11:30 AM; field tour, and then travel to Las Cruces, NM to Las Cruces Convention Center for dinner.
**MEET in Truth or Consequences, NM at the Sierra County Administration Offices at 11:30 AM**
AFTERNOON FIELD SESSION

11:30-4:30: Optional field trip with box lunches

Meet at Sierra County Administration Offices at 11:30am; Depart at 12:00pm

10 minute drive (in vans) to Stop 1: Elephant Butte Overlook

Onsite 12:10 -1:10pm

Brief 10 minute presentations

History of Dam & overview of BOR role/project (Michelle Estrada-Lopez, US Bureau of Reclamation)

Geology around dam placement (Dan Koning, NM Bureau of Geology and Mineral Resources)

Rio Grande Compact Overview – Credits and Debits (Page Pegram, NM Interstate Stream Commission)

MRGCD and EBID overview and coordination (Jason Casuga, Middle Rio Grande Conservancy District, and Gary Esslinger, Elephant Butte Irrigation District)

Q&A

Drive 10 min (in vans) back to Sierra County Administration Offices

In personal vehicles and vans, caravan to Caballo stream gage

40 minute drive to Stop 2: Caballo Dam & Streamgage

Onsite 2:30 – 3:40pm

Brief 10 minute presentations

Management of Caballo Reservoir (Michelle Estrada-Lopez, US Bureau of Reclamation)

Stream gages in the Compact / Consent Decree (John Longworth, NM Office of the State Engineer/NM Interstate Stream Commission)

IBWC background & involvement in the region (Gilbert Anaya, International Boundary and Water Commission)

Gage maintenance + monitoring practices – (Matthew Pedroza, US Bureau of Reclamation)

Effects of water delivery on recreation & park management in light of climate change (Alex Mares, NM Energy, Minerals and Natural Resources Department)

Q&A

Personal vehicles and vans – 60 minute drive to Las Cruces Convention Center.

SOCIAL HOUR AND DINNER

5:30-8:00: Welcome! Hosted Social Hour and Dinner

Las Cruces Convention Center
Day 2 – Thursday, December 7, 2023
When: 7:30 AM – 8:30 PM
Where: Las Cruces Convention Center
BREAKFAST

7:30-8:00: Las Cruces Convention Center

MORNING SESSION

8:00-8:20: Opening remarks

8:20-9:40: Statewide Water Perspectives

Brief 10 minute presentations

Climate Change Report (Nelia Dunbar, NM Bureau of Geology and Mineral Resources)

New Mexico's Big Water Challenges (Tanya Trujillo, Special Advisor to the Governor and Deputy State Engineer)

Aquifers of New Mexico (Katie Zemlick, NM Office of the State Engineer)

Fresh and Brackish Water Characterization and Data Needs (Stacy Timmons, NM Bureau of Geology and Mineral Resources)

Aquifer Storage and Management (Adrian Oglesby, Utton Center)

Q&A

9:40-10:30: Lower Rio Grande & the Rio Grande Compact

Brief 10 minute presentations

Rio Grande Compact, update on accounting, storage, flows in the Rio Grande (Hannah Riseley-White, NM Interstate Stream Commission)

Overview of Water Management Project Lower Rio Grande (Jennifer Faler, US Bureau of Reclamation)

Historical Perspectives on Rio Grande Compact flexibilities (Mike Hamman, State Engineer)

Q&A

10:30-11:30: Lower Rio Grande Status Report: Hydrologic and Legal

20 minute presentations

Surface Water/Groundwater of the Lower Rio Grande (Peggy Barroll)

Potential Consent Decree Legal Implications (Nat Chakeres, NM Office of the State Engineer)

Q&A

11:30-11:40: 10 minute break & load vans

AFTERNOON FIELD SESSION

11:40am – 5pm: Afternoon field trip (travel by van)

30 min Drive to Stop 1: Leasburg Dam

Onsite 12:10 – 1:30 pm

Working lunch provided + Brief 10 minute presentations

Regional Geology (Shari Kelley, NM Bureau of Geology and Mineral Resources)

Dam operations and challenges (Gary Esslinger, Elephant Butte Irrigation District)

Agricultural needs of Mesilla Valley + History of EBID (Greg Daviet, Elephant Butte Irrigation District/Dixie Ranch)

Q&A

10 min Drive to Stop 2: Seldon Drain

Onsite 1:40 – 2:20 pm

Brief 10 minute presentations

Stormwater management and getting water back to river/system (Gary Esslinger, Elephant Butte Irrigation District)

Habitat Improvement (John Douglas, Elephant Butte Irrigation District)

Q&A

40 min drive to Stop 3: Mesilla Dam

Onsite 3:00 – 4:00 pm

Brief 10 minute presentations

Dam overview & operations (Michelle Estrada-Lopez, US Bureau of Reclamation)

Growing Pecans and other Agricultural/Water Topics (Richard Heerema, New Mexico State University)

Mesilla Basin Hydrogeology and Managed Aquifer Recharge (Shari Kelley, NM Bureau of Geology and Mineral Resources)

Lower Rio Grande regional research overview (

Tentative

: Andrew Robertson, U.S. Geological Survey)

Q&A

15 min drive back to Las Cruces Convention Center

DINNER AND KEYNOTE ADDRESS

5:30pm – 8:30pm: Las Cruces Convention Center

Dinner served at 6:30pm

Keynote presentation at 7pm: Dr. Rosario Sanchez, Texas A&M University
Day 3 – Friday, December 8, 2023
When: 7:30 AM – 4:30 PM
Where: Las Cruces Convention Center
BREAKFAST

7:30-8:00: Las Cruces Convention Center

MORNING SESSION

8:00-9:20: Statewide Perspectives Part 2

Brief 10 minute presentations

ISC Update on the Water Security Planning Act (Andrew Erdmann, NM Interstate Stream Commission)

Clean Water Act changes in New Mexico (Rachel Conn, Amigos Bravos)

Moving towards primacy in New Mexico (Shelly Lemon, NM Environment Department)

Evolving water permitting processes at NMED (John Rhoderick, NM Environment Department)

Human health impacts of water scarcity and heat (Chelsea Langer, NM Department of Health)

Q&A

9:20-10:10: Lower Rio Grande Part 2: Water Conservation Efforts

Brief 10 minute presentations

Implementation efforts related to potential Consent Decree, including outcomes of the Lower Rio Grande Groundwater Conservation program (John Longworth, NM Office of the State Engineer/NM Interstate Stream Commission)

OSE Metering Program (Ryan Serrano, NM Interstate Stream Commission)

Q&A

10:10-11:00: Regional Water Providers, successes and challenges, water conservation efforts

Brief 10 minute presentations

City of Las Cruces smart meter program (Carl Clark, City of Las Cruces Water Utility)

Successes and challenges of regionalization (Karen Nichols, Lower Rio Grande Public Water Works Authority)

Q&A

11:00-11:30: Conference Recap

Ana Pinheiro-Privette and Stacy Timmons

LUNCH

12:00-1:00: Lunch at La Posta de Mesilla

AFTERNOON FIELD SESSION

1:00-4:30 Optional field trip

15 min drive to Stop 1: Leyendecker Plant Science Research Center

Onsite 1:30 – 2:30 pm

Leyendecker Weather Station (Dave DuBois, New Mexico State University)

ISC crop cover testing project (Manoj Shukla & Hui Yang, New Mexico State University)

Q&A

15 minute drive to Stop 2: Local Farm

Onsite 3:00 – 3:30 pm

Field overview of EBID SCADA system (Patrick Lopez, Elephant Butte Irrigation District)

USGS Data Collection (TBD, U.S. Geological Survey)

20 minute drive return to Las Cruces Convention Center
Las Cruces Convention Center
Dinner December 6, 2023; Workshop December 7 & 8, 2023 || 680 E University Ave, Las Cruces, NM 88001
Sierra County Administration Offices
Meet here at 11:30 AM on Dec. 6 || 1712 N Date St, Truth or Consequences, NM 87901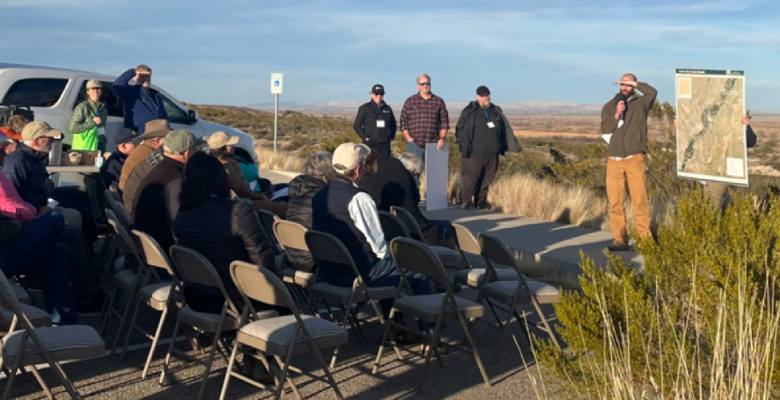 Local, regional, and statewide perspectives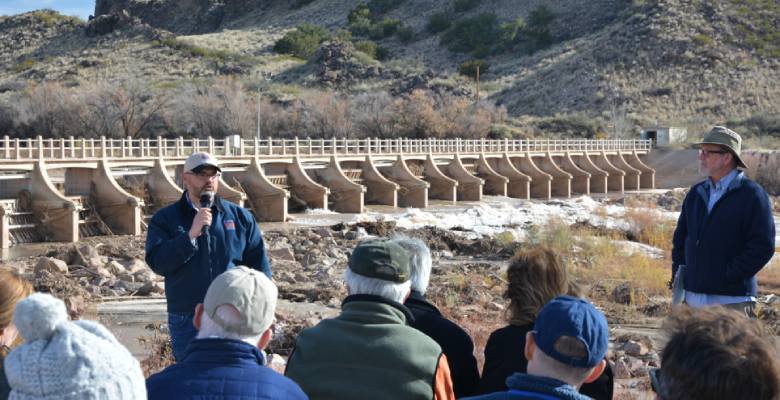 Building awareness and connections